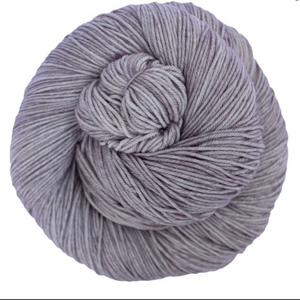 About the Yarn:
The newest yarn from Malabrigo! Their amazing colors now available on a sock yarn with 25% nylon for true durability.


Here's why we LOVE this yarn:
1. The colors! Each skein is hand-dyed with a unique range of colors.
2. The softness—it's never a bad idea to knit and crochet with a yarn you don't' want to put down.
2. Generous yardage makes this yarn an affordable splurge.
Note: Malabrigo Ultimate Sock is hand-dyed by artisans in groups of 5 skeins. Any order greater than 5 skeins will contain different dye lots, and skeins may vary even within the same dye lot. Be sure to buy enough yarn for your project at the same time. To blend color variations, alternate between two skeins as you knit or crochet.
Yarn Facts:
Fiber Content: 75% Superwash Merino Wool, 25% Nylon
Weight:

Fingering/Sock (#1 Super Fine)

Yards: 420
Grams: 100
Knitting Gauge: 8 stitches/inch (US 1-3 needle)
Crochet Gauge: 8 stitches/inch (B1-E4 hook)
Care: Machine Wash Cold & Dry Flat
Origin: Uruguay