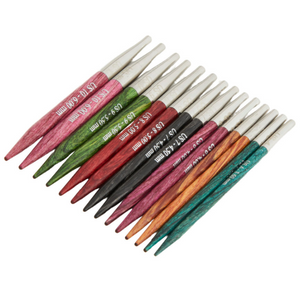 Dreamz interchangeable needle tips are made from sturdy laminated Birchwood dyed in a beautiful range of colors so you can easily identify the size by sight! Connect these to different cord lengths to create the circular needle you need.
Available in 12 sizes

Perfect points, flawlessly tapered - ideal for all yarns and every project. Lightweight, strong & durable.

Easy to connect cord with a smooth join that enables easy stitch glide and no snagging.

Polished wood surface works effortlessly with every type of yarn without slowing down stitch rhythm.

Each needle tip is 5" in length To be used specially with cord length of 24" and above.

Range of radiant colors for easy identification and organization. 
To be used with Dreamz Interchangeable Needle Cords to create the length circular needle you desire.