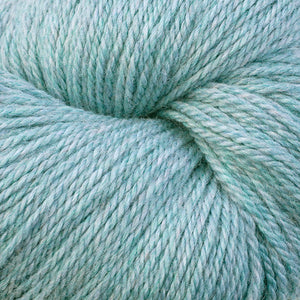 About the Yarn:
If you love wool but just want to be able to wash it—without entering superwash territory—check our Berroco Vintage DK. It's a tried-and-true yarn you can stash for a variety of projects.

Here's why we LOVE this yarn:
1. It's a wool/acrylic blend that offers the best of both worlds—great color and memory from the wool plus machine washable acrylic.
2. The colors—it comes in an amazing range of solids and heathers.
3. It's so soft that even wool-averse knitters and crocheters are fans.

Vintage comes in a range of thicknesses in addition to DK. Check out Vintage (Worsted) & Vintage Chunky too!
Yarn Facts:
Fiber Content:

 

52% Acrylic, 40% Wool, 8% Nylon
Weight:

 DK

Yards: 290
Grams: 100
Knitting Gauge:

5.5 stitches/inch (US 6 needle)
Crochet Gauge:

4.5 stitches/ inch (G6 hook)
Care:

Machine Wash Cold & Dry Flat
Origin:

 

Peru
Need pattern ideas? Check out these kits!