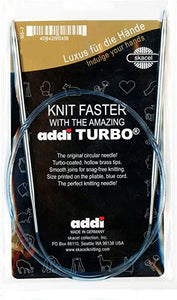 Knitters who know love Addi Turbos, the circular knitting needles designed for speed. These 24" length needles boast nickel tips and soft, pliable cables that won't snag your yarn—choose your size and get ready for your stitches to fly.
Looking for another length?
Click here for 16" circulars.
Click here for 40" circulars.
Or try a Click Tip or Rocket Tip Short Interchangeable set for lots of options.