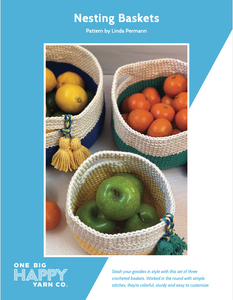 Crochet a set of three cotton baskets that nest to fit inside each other.  Finish with an adorable tassel braid that you can mix and match between baskets.
The printed 4-page 8 1/2" x 11" pattern booklet is included in our Nesting Baskets Kit. 
Purchase a downloadable PDF of this pattern here.
Enjoy FREE YouTube tutorials for step-by-step instruction.
ABOUT THE PATTERN
Finished Basket Size: Small basket diameter measures 6" (at base) by 4 1/2" tall, medium basket diameter measures 8 1/4" (at base) by 4 3/4" tall, large basket diameter measures 10 1/2" diameter by 5" tall.
SUPPLIES
To make a full set of 3 baskets, you'll need 7 skeins of Cascade Nifty Cotton (100% Cotton) yarn as listed below, plus the printed crochet pattern.
If making each basket with a unique main color yarn, choose

2 skeins for large basket bottom

2 skeins for medium basket bottom

1 skein for small basket bottom

2 Skeins for top/handle will be enough for all 3 baskets

If making a coordinating set with 2 yarns, choose

 5 skeins total for basket bottoms
2 skeins total for basket top/handle
You May Also Need: